Meet the Creative series: West Coast Leslie Designs
Leslie, from West Coast Leslie Designs is one of our favs. Why? Have a read below and we bet she'll have you smiling . . .
We want to hear all about you . . .
Hi There! I'm Leslie and I'm the owner + designer of West Coast Leslie Designs. WCLD is a women's knitwear brand that focuses on making high quality, modern knitwear accessories including scarves, mittens, toques, and even scrunchies! WCLD is celebrating its 6th year in business with a shift toward more sustainable & natural fabrics, chic European styles, with timeless lines + colours. 90% of the WCLD product line is made from all natural, sustainable, renewable and biodegradable fibres, like Merino wool, alpaca, or Pima cotton, and when possible we opt for organic and/or locally/naturally dyed options. We are passionate about making beautiful, easy to wear products for busy modern women – because no one has time style themselves head to toe each morning. Our products are intended to fit seamlessly into your existing wardrobe, adding the perfect finishing touch to any outfit so you can step out looking + feeling amazing.
How do you stay creative?
Music really drives me. I've got playlists for almost every mood. Even when I'm working at the computer sometimes a song comes on and I just have to stop and have a little dance party…even if I don't leave my chair. I throw my hands in the air like I just don't care! What songs get me grooving? I'm SO GLAD you asked…
Juice – Lizzo – if this song doesn't make you wanna bust a move…I just…I don't think we can't be friends – just kidding…
September – Tauren Wells
Mr Fahrenheit – Queen
Sunday Candy – Donnie Trumpet & the Social Experiment
Anything by Chance The Rapper – seriously he can do no wrong!
Do It – Tuxedo
Are you a Creative full-time? If not, what's your day job?
I am a full time creative, because I am VERY lucky that my "day" job is also in the creative field. By day…or rather, by night I am a dance teacher to student's aged 3-18!. During my day I work on West Coast Leslie Designs and in the afternoon and evening I teach dance. I have a Bachelor of Fine Arts from SFU in Dance (legit!), and primarily teach jazz, contemporary and musical theatre, but have taught everything from ballet, to beginner tap, to hip hop. Jazz is my love and I'm pretty proud that I can still rock a high kick and a triple pirouette on a good day 😉 I've danced since my childhood and performed with the Alberta Ballet in the Nutcracker when I was a student. I also trained + performed with the Nu-West Dance Company in Saskatoon Saskatchewan. In university I had the opportunity to work with A LOT of amazing Canadian dance icons like Brian Webb, Wen Wei Wang, Barbara Bourget (Kokoro Dance), Day Helesic (MovEnt), Gerry Morita (Mile Zero Dance). My self-portrait choreography "Broken (God Said No)" was selected + performed at the Vancouver International Dance Festival in 2007. My choreography and students have been awarded by multiple festivals and competitions over the past 10 years and several of my former students have studied (and are studying) at SFU and Capilano College. Talk about full circle!
What's your favourite place to hang out on the Westcoast?
Since I grew up in Saskatchewan I love hanging out ANYWHERE on the West Coast. White Rock is one of my go to places, because it's so close to my house. In 15 or 20 minutes I can be at the beach and that never gets old. Even in the winter, I like going to the beach. My favourite coffee shop, Ever Bean Cafe, is in South Surrey and I love spending time answering emails in the cafe. They have the BEST coffee on this side of the Fraser.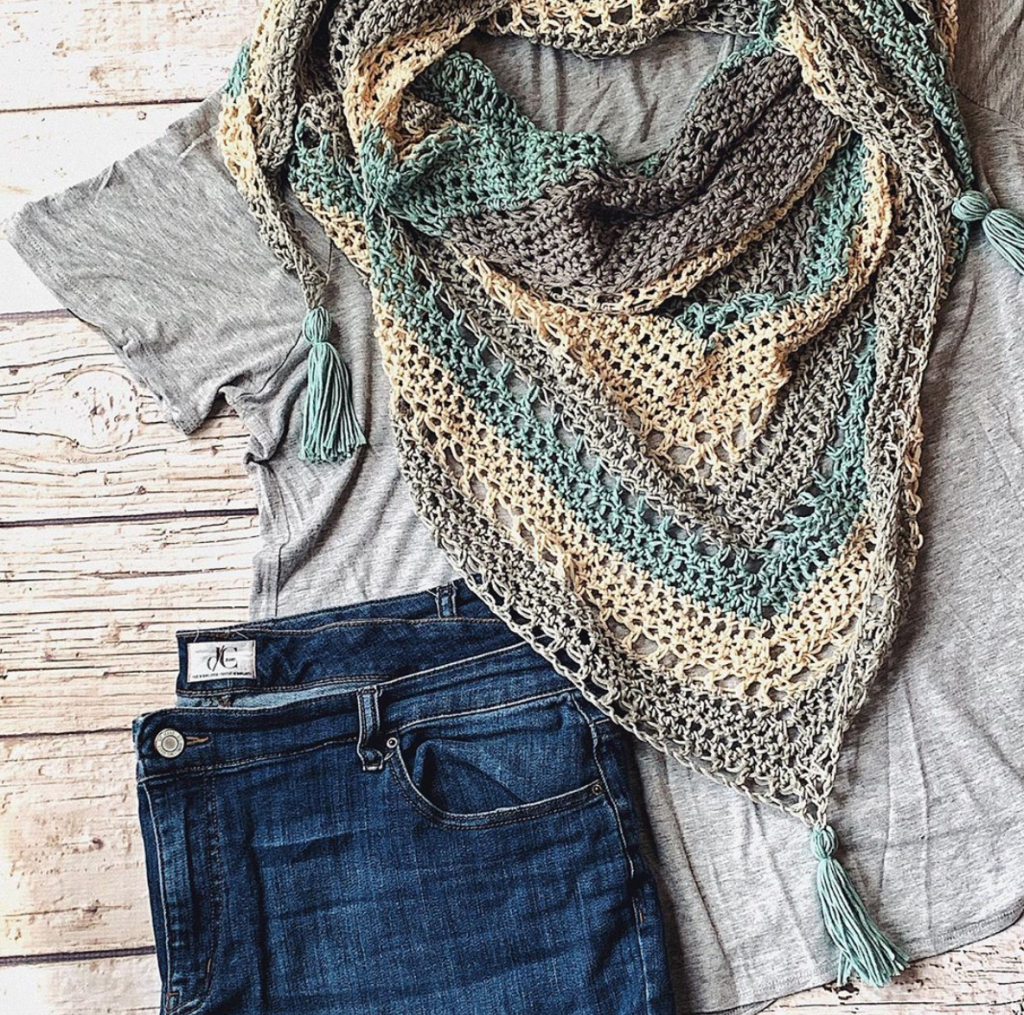 Will you have any new products or designs at this year's Etsy: Made In Canada Market?
ooh! Yes! I'm expanding the Piya Shawl range, which was new last season. They were SO popular last year at the market, so I'm making sure to have a lot more ready and in more colours! They'll be available in pima cotton as well as merino/alpaca blends this season. I'll also have a new toque style with faux fur pom pom AND full finger mittens!!! Last year we only carried fingerless gloves, and this year I knew I'd have to make proper mittens. So we'll have BOTH options for shoppers. We're also expanding the Nordic Scarf line, which is a big, fluffy oversized scarf made from 100% Peruvian wool. Our 2019 f/w introduces the Nordic Scarf's little sister, the City Scarf, which has the same pattern as the Nordic Scarf but is less bulky, so it's a little more manageable for everyday wear and primarily made from 100% merino wool! I'm VERY excited for shoppers to see all the new goodies for Fall/Winter 2019!
Tell us about your all-time favourite customer . . .
oh yay! My favourite customer is Lauren! I met Lauren several years ago at Make It. She was just like any customer that season, I think she bought just one scarf for herself. But then I saw her again the next year…that's when she told me she was so glad she found me and that she had come to the market just for me! (whoa – talk about feeling special) She told me how much she loved her scarf she bought last year, which I hear a lot. So I assumed she was just being nice and was gonna leave my booth after chatting. NOPE! Lauren continued shopping, picking up about 5 scarves for her aunties and bought herself a pair of boot cuffs, as she'd regretted not getting some last year. Well I just about fell over!!! I couldn't believe I had a returning customer who truly loved my stuff. Fast forward to last year, Lauren came by AGAIN to say hello! We chatted, and she told me that she'd been to a few other markets, but always resists buying anyone else's scarves because, (and I quote) "I just know they're not gonna be as good as Leslie's". Well that made my heart burst into about 50 million pieces! Then she tried on a OOAK Piya shawl made in grey, cream + purple with merino + alpaca and she wouldn't take it off <3 While I was ringing her up, she told me she has a drawer full of my products, so she can pull out whatever she needs to match that day. Lauren is such a sweetheart + she is one of the reasons I'm offering full mittens this year; that was her suggestion, and how could I say no?
Were you born and raised in the Vancouver area or do you come from afar?
Is anyone born + raised in Vancouver? lol And if you are you are a unicorn! No, I was born in Calgary AB, and moved to a small town outside Saskatoon SK when I was 8 years old. So i spent the majority of my childhood in Saskatchewan. Growing up in SK allowed me to be close to my grandparents and my mum's side of the family which I look back on now as a HUGE blessing. I'm still very close with my grandparents, aunties, uncles, + cousins. Small town living was fun for a while; I biked or walked everywhere, slurpees cost $1 at the corner store, and knew pretty much everyone in town. But my city girl roots ran deep, and I knew small town Saskatchewan was not my future. So in 2005 my boyfriend (now husband) packed up and moved to Burnaby so I could finish school at SFU, and the rest is history. My Dad has family scattered throughout the Lower Mainland + BC so I have a connection to British Columbia as well. It didn't take long for Vancouver to feel like home. This Prairie Girl can't imagine NOT living close to the ocean ever again. Part of me is still surprised that I feel so at home in the Lower Mainland + how much I really LOVE my adopted province. Also compared to Saskatchewan it feels kinda fancy to live in Vancouver 😉 And who doesn't want to feel a bit fancy? Lol
Pineapple on pizza – yay or nay?
Always pineapple on pizza!!! I mean you can't put pineapple on any old pizza, it can only be on Hawaiian. Don't just throw pineapple on a Deluxe, that's just crazy talk. And we're talking about North American pizza, because if you're getting a "proper" Neapolitan pizza, then I'd have to say no. There's definitely no pineapple on "real" pizza – or at least I haven't encountered it in my travels. But there's something magical about the combination of ham + pineapple. The fat and salt of the ham NEEDS the acidity and brightness of the pineapple, that's why it works. You've got two opposing flavours balancing out the palate, with the sauce and the chewiness of the crust. It all works together. Didn't expect that food analysis did ya? lol Personally I also like to add mushrooms to my Hawaiian pizza for extra veggies so I don't feel so bad about eating pizza