Meet Serena of Chu Chu Ceramics
Meet Serena of Chu Chu Ceramics, creator of contemporary black and white ceramics and hand sculpted resin jewellery.
Introduce yourself and your business.
Hi my name is Serena and I am the boss lady of Chu Chu! I have a fine arts degree in mural painting and installation sculpture and am certified at Craft Council for fibre arts. At my studio I create contemporary black and white ceramics, hand sculpted resin jewellery and teach a variety of creative art classes. I love playing with different media and continually learning new and unique techniques. Teaching has become a lifeline into human interactions and sharing the passion and joy with others.
How do you stay creative?
Surrounding myself with other creative people in different disciplines. We can find inspiration walking around in a neighbourhood or just chatting with other artists and seeing what they are obsessed with!
Is this your full time gig? If not, what is your day job?
It is not my full time gig although sometimes it feels like it! During the day I work as a brand specialist in web and graphic design. At night and on the weekends I get to get away from the screen and work with my hands instead!
Were you born and raised in the Vancouver area or do you come from afar?
I was born and raised in Toronto and moved to Vancouver 11 years ago, whoa…time really flies!
Tell us about your favorite customer?
I have loads! One of my very loyal customers is slowly collecting pieces from the Geometric Mountain series, it's always nice to see a familiar face at markets. My other customers are predominately students that come to my workshops and they always come with good spirits and lots of laughter.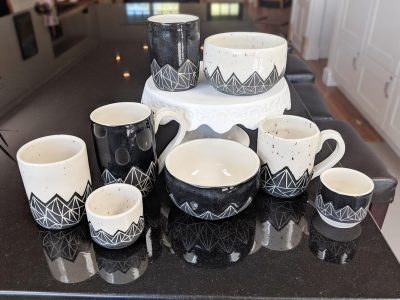 Tell us about how your product is made. What is your favourite part?
I make my ceramics on the wheel, with moulds and by hand building. I like to experiment with different techniques like air brushing, screen printing and borrowing techniques from other disciplines and try to incorporate it so it works with clay. My favourite part is carving, least favourite is glazing!
What's the most challenging part of your business?
Time. Ceramics are not a quick product to make, there are several stages plus there's always a chance of a margin of error in any stage. It can take weeks for a batch of tableware to be complete. Shipping is a challenge as well as it is a breakable item and can be weighty. Larger boxes with extra padding need to be used which also adds to the cost of shipping.
What do you wish customers knew about you or your business?
My business is run by a single person…moi! I produce product, market, photograph, pack, ship and do all the other background tasks that are necessary to run a small business.
Is your workshop / creative space neat & tidy or a beautiful mess?
Neat & tidy! Because the space is used for several disciplines and converts to a classroom, I try to keep it as organized as possible at all times.