Meet Stephen of East Van Bees
Meet Stephen of East Van Bees, who turn their love into "work."
Introduce yourself and your business.
EastVan Bees is a small local business built out of a passion for beekeeping. In 2010 we took up the hobby of beekeeping and quickly fell in love. In 2016, following a Cancer diagnosis and treatment, we decided to turn our love into our "work". We have been fortunate to bring our honey and products to our local community ever since. We hope you enjoy our honey and things we make as much as we do!
How do you stay creative?
Working with bees keeps me on my toes.
Is this your full time gig? If not, what is your day job?
This is beyond full time.
Were you born and raised in the Vancouver area or do you come from afar?
I was born in New Westminster and raised in Victoria but have lived in East Vancouver for over 35 years.
Tell us about your favorite customer?
All my customers are my favorite but i do love the ones that appreciate the work the bees do for us.
Tell us about how your product is made. What is your favourite part?
The bees do the majority of the work but we help along the way. My favorite part is spinning the honey in the extractor.
What's the most challenging part of your business?
The most challenging part of the business is keeping up with the book keeping.
What do you wish customers knew about you or your business?
Its a very sticky business.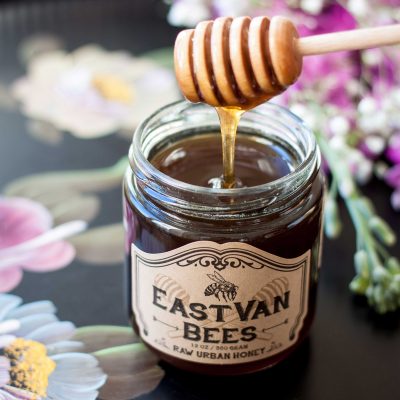 Is your workshop / creative space neat & tidy or a beautiful mess?
I try to keep it tidy but i am a bit messy.