Meet the Creative series: Inner Wolf Jewelry
Ashya, Creator of Inner Wolf Jewelry, will be joining us for her first Etsy: Made In Canada market and we couldn't be more stunned with the beauty and passion she pours into her work.
We want to hear all about you . . .
Inner Wolf Jewelry is me: Ashya Elizabeth, from First Nations Cree from Treaty 6 territory. I am also mixed with Turkish. I hand-make each piece sold in the Inner Wolf Jewelry shop using quality materials that I trust, love and find impactful. My heritage is a major influence in my life, and I find the art of jewelry is an amazing conduit for my knowledge.
Growing up, I was taught about my heritage and culture in a strong household with a smart-as-hell mother, who gave me the knowledge about our First Nations ancestors and history. She has spent her life learning and teaching, with three degrees and completing a thesis about missing and murdered Indigenous women. She was sure to raise me to understand and become knowledgeable about my ancestry and cultural history.
I made my first dreamcatcher when I was 8-years-old, and still have it to this day. My aunties and family taught me most of what I know about making dreamcatchers, as well as doing beadwork and moccasins. Art has always been a part of my life, and creating artisanal objects by hand gives me a strong sense of purpose.
I attended the University of Saskatchewan and studied Art and Art History, looking into different art mediums such as lithography, printmaking and painting. My creative side enjoys working outside the classic mold, though I didn't try making jewelry until I noticed that I love to alter and play with jewelry I bought. I would see necklaces or bracelets, and try to piece it together to look the way I wanted it to. Naturally, my art practice grew to include jewelry.
I became serious about making jewelry in 2015, and the positive feedback I received from the community made me believe this was the right path for me. I aim to pass on the stories and history of my ancestors, while making my customers feel unique and beautiful. I am continuously developing my techniques and craft to make different pieces, and take any opportunity I can to learn something new about making jewelry.
It makes me happy to push myself and challenge my abilities, and I am excited by every piece I make. Asides from my online shop, I sell in a variety of small businesses across Canada that are supportive of the community. I also set up at local markets, which I love because I get to meet my customers face-to-face, and see them light up about their purchase. All my work feels worth it when I see that customers feel they have something special and are proud to be wearing one of my creations.

How are your designs made and what's your favourite part?
My values guide my business practise: honesty, authenticity, and affordability. The mix of materials I use is influenced by my culture and heritage, and carefully selected and curated. I source most of my materials from the earth, including crystals and naturally shed antlers. Feathers used in my pieces are sourced from my elders. Each piece is designed with a feeling or thought in mind. I generally enjoy just making up a lot of things that i only make once. So people will have a unique piece to themselves!! I sometimes have customers come back many years later and ill go "did I make that?" haha!
Is your Creative space neat and tidy or a beautiful mess?
Its a little bit of both!! I generally go through once a month clean up!
What's the most challenging part of your business?
Probably not being everyones cup of tea. Theres a lot of people who look at my stuff and just go "oh thats interesting" or "wow I could never wear that!" or just thing of it as being too much!!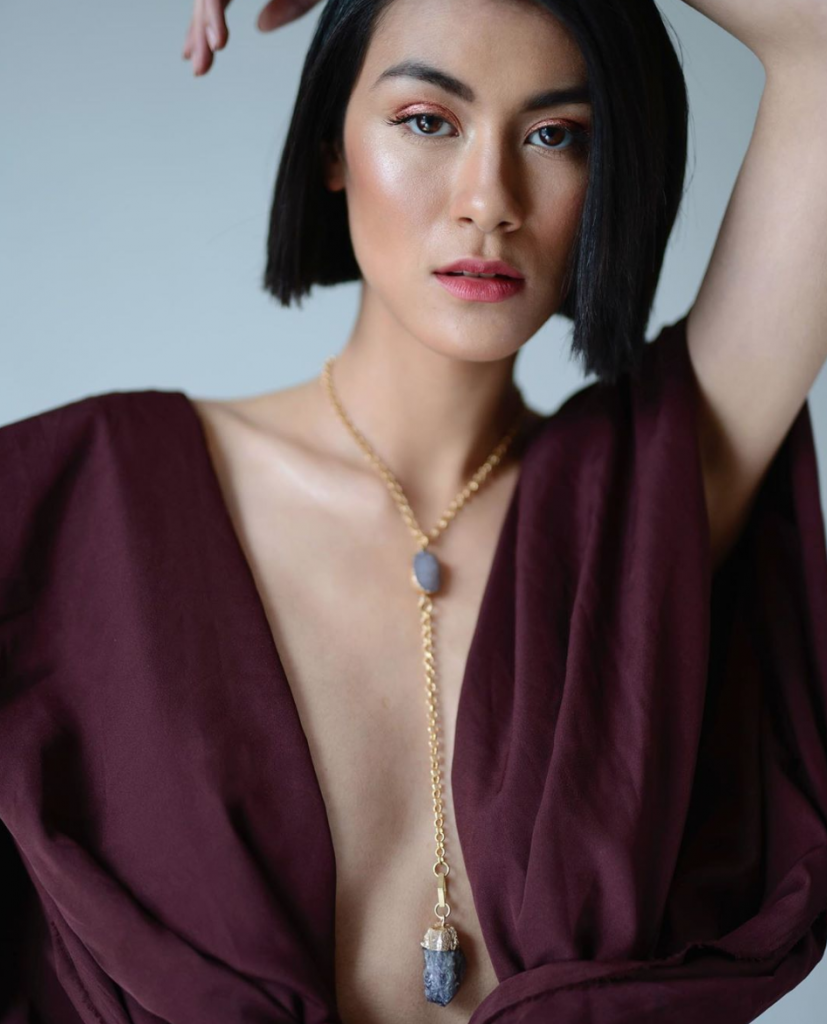 What do you wish your customers knew about you?
I honestly work the longest days of my life doing this. I put a lot of heart into my craft and what I do! It's a lot of love.
Pineapple on pizza – yay or nay?
YAY!
Time to get mushy – how did you feel when you made your first sale?
Oh gosh. It was so long ago! I do recall feeling happy, but at the time it was to a lot of friends and family supporting me while I lived in Los Angeles!