The Etsy Market Maker: Amanda of Amanda Weedmark Designs
Meet Amanda of Amanda Weedmark Designs, creator of retro-inspired paper goods and gifts.
Introduce yourself and your business.
I'm Amanda Weedmark; Graphic designer, digital illustrator, and creative entrepreneur based in Burnaby – on the ancestral and unceded homelands of the hən̓ q ̓əmin̓ əm ̓ and Sḵwx̱wú7mesh speaking peoples. I want to extend appreciation for the opportunity to live on this shared territory.
As a creative, I love helping funky, free spirits tap into their passions and share their story. I achieve this by offering stand-out designs on high quality paper goods and gifts, like stickers, apparel, and stationery.
How do you stay creative?
Staying creative to me is about observing what's happening around me, looking back on good times, or exploring something new. Anything that is outside of the "everyday" seems to inspire fresh ideas.
Is this your full time gig? If not, what is your day job?
After 3 years of side hustling this business evenings and weekends, I was finally able to go full-time with it in January of 2020. It was scary to leave a stable 10-year, in-house design position for a big unknown. But I had seen enough success from my work to know that I could do more with a full 8 hours a day dedicated to it.
Were you born and raised in the Vancouver area or do you come from afar?
I was born and raised in the suburbs of Maple Ridge. Sundays would be spent at my grandma's acreage, splashing around in Alouette River or cozying up in front of the fire with a tea. And summer's were spent fishing on my dad's commercial fish boat to make an extra few bucks or just take in being surrounded by nature. As a teen, my friends and I would head into Vancouver on occasion and hit up all the record and second-hand shops looking for good music to groove to and cool clothes to repurpose and make our own. All of this has definitely had influence on my work.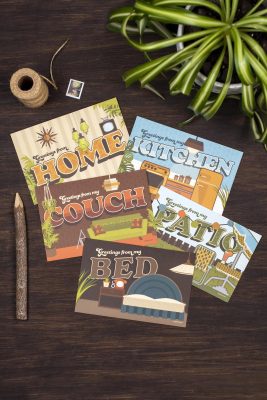 Tell us about your favorite customer?
A recent favorite is when I received a handwritten letter in the mail from a customer. I felt so special to know that someone took time out of their day to send me some love and share their story. Reminds me of the days where my friends and I would write letters to each other. It was so exciting and joyful to get those in the mail and spend time reading it, and writing back. It sparked that same feeling of joy again – and is something I want to offer my customers too.
Tell us about how your product is made. What is your favourite part?
I design everything myself, with good old fashioned pencil and paper. I then digitize the designs in Illustrator and send it off to small production shops to be turned into merch. My favorite is seeing my work in real life and seeing how customers react or use it.
What's the most challenging part of your business?
Knowing what will sell and investing in new product or designs. It's always tough to know and how much to invest. But I'm always for trying something in small batches before I dismiss it completely – or not try at all. Sometimes it doesn't work so you sell it off as best you can and discontinue it. Other times you hit a nerve and it has wild momentum you could have never predicted. You really never know.
What do you wish customers knew about you or your business?
I strive to do my part in being as environmental as I can be with packaging and/or product; Eco-friendly material or inks, natural paper, and recycled material. Any packaging that I receive from my merch orders that is not environmentally friendly, is taken to my local eco-centre to be recycled. Every year I try to do better than the last. I also donate funds every year to a number of charities based on need or local interests and is something I want to do more of in the future.
Is your workshop / creative space neat & tidy or a beautiful mess?
I work out of the corner of my living room so it can get messy at times when there's very little room to give everything a proper "home". Shipping supplies are stored in the tv stand, artwork is strewn across the coffee table, our dining room table doubles as a ship station. It's no where near Instagram-worthy and can be tricky working in such a small space but I've managed to make it work. Turns out you can do alot with very little and you find creative ways to make it work when you have to. Being a very organized and minimalist person, it can get to me sometimes but I have realized that it's not forever, it's just for now. And one day I will have that lovely office space to stretch out in.