The Etsy Market Maker: Amanda of …And Then Again'
Meet Amanda, the maker of …and then again' who creates beautiful and meaningful heirloom gifts with vintage silverware.
Introduce yourself and your business.
Hi! My name is Amanda and my business is '…and then again'. My signature pieces are hand-stamped, vintage, silver-plated spoon, forks and knives. I curate vintage silverware from all around the lower mainland and make the pieces modern again by hand-stamping various quotes, phrases and intentions in to the surface of the pieces. Sustainable gifts to be used daily that bring joy and nostalgia. My business sort of started by chance. Originally we had collected vintage spoons for our wedding 13 years ago. The spoons were twisted into napkin rings for each place setting. A few years later, I still had a bag of silverware left over and decided to see what I could make for gifts for Christmas for my friends. I read a blog post about hand-stamping and made some herb markers. The recipients loved their gifts and wanted to purchase some to gift to others, and the rest is history.
How do you stay creative?
My intention is to live a full creative life and to find the creativity in most everything I do. Cooking, gardening, decorating, gifting, photography, styling…it all fills me up. My practices of yoga, meditation, movement and getting out in nature are integral to this as well. I am a curious person who wants to learn and try it all, and I find constant inspiration in so many areas. I recently signed up for some online art classes and am learning new techniques in collage and paint. Who knows how I will incorporate this in the future!?
Tell us about your favorite customer?
I have so many amazing customers who keep coming back for more gifts, I really could never nail it down to one person! I love when customers share with me about the stories behind their reason for gifting a particular piece or why a phrase resonates with them. I am so grateful to help people connect with their loved ones in times of joy, struggle, gratitude and grief. In particular in 2020 I have been sending out so many pieces with messages of love or hope. Two pieces that I have stamped hundreds of are the 'love you mom' and the 'a spoonful of strength' spoons. My love language is gifting, so helping other with their gift-giving is the best part of my business.
Tell us about how your product is made. What is your favourite part?
The hand-stamping process involves holding a metal letter stamp to the surface of a silverware piece and striking it with a hammer. One letter at a time, a permanent impression is made in to the surface of the piece. I love the treasure hunt of finding all of the vintage silverware and then identifying the pattern name and it's original year of design. I then include this information on the back of the product tag for each piece. I am able to identify about 98% of the silverware that I use. Customers
absolutely love this little detail!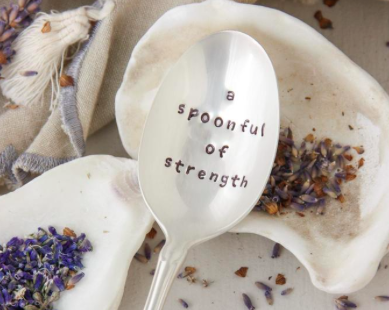 Is your workshop / creative space neat & tidy or a beautiful mess?
While I would like to think that my studio and my office spaces are tidy, most of the time they are a beautiful mess. A bit of organized chaos but I do know where to find everything. The one spot that is always organized is my shipping station. It is where I keep all of my shipping supplies and have orders laid out as I am working on them.