The Etsy Market Maker: Amy of Amy Tom Art & Design
Meet Amy of Amy Tom Art & Design, an oil painter and illustrator of anthropomorphic animals.
Introduce yourself and your business.
I make cute anthropomorphic animal and fantastical human art inspired by my love of wildlife, unusual animals and my favourite pop culture characters. Sometimes, my art has elements of what I dreamt of while sleeping. I love to paint and my favourite painting medium is oil paints on canvas or wood panels. I also really like to draw and illustrate with ink in black and white. I am a mostly self taught artist, but I have a background in design (Environmental Design) through university and work. With my art, I want to bring smiles and joy to people who encounter them.
Were you born and raised in the Vancouver area or do you come from afar?
I was born and raised in the city of Vancouver, which I am told I am a unicorn, because people tell me they rarely meet people who are born and raised Vancourites.
Tell us about how your product is made. What is your favourite part?
My full colour art is created with oil painting, which I turn into beautiful art prints and greeting cards. I try not to get to stuck on one medium and I love to experiment, so I also love to create black and white illustrations on watercolour paper. From those BW illustrations, I make them into screen printed patches with help from a local screen printer. My favourite part is finishing a painting or illustration.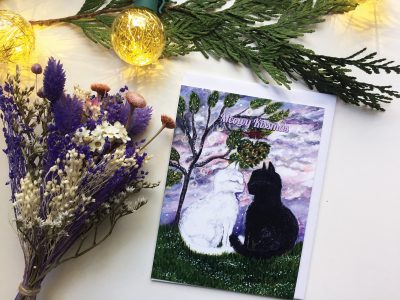 What do you wish customers knew about you or your business?
I wish customers know long my process is from development drawings to rough sketch on my chosen medium to the actually painting.  Each painting can have more than 15 layers of paint and because I paint with oil, it takes a bit longer to dry than watercolour or acrylics.  Most of my paintings take a few weeks to complete.  Also there is constant pressure of not just creating new art, but new products that best showcases my brand.
Is your workshop / creative space neat & tidy or a beautiful mess?
My creative space is neat as I set up, then it becomes a beautiful mess as I work.  I get covered in paint, sometimes paint gets in my hair and behind my ears, but I clean up afterwards.  Going to neat, to a very beautiful mess to tidy again, works for me.