The Etsy Market Maker: Becca of Becca McCreedy Designs
Meet Becca of Becca McCreedy Designs, who makes accessories that are eco-friendly alternatives to plastics!
Introduce yourself and your business.
Hi! I'm Becca, the owner of Becca McCreedy Designs. I started my business back in 2018 after challenging myself to become more sustainable by ditching single-use plastics, and started sewing reusable food bags to help others do the same! Since then, I've expanded my products to include reusable makeup wipes, reusable masks (yay 2020), digital art, stickers and more! I love that my business can expand and grow with me!
How do you stay creative?
I surround myself with other creative people and regularly binge-watch DIY videos on YouTube.
Is this your full time gig? If not, what is your day job?
No! Full-time I'm an engineer with Whitewater West – we design and build waterparks all over the world!
Were you born and raised in the Vancouver area or do you come from afar?
I was born in Northern Ireland, grew up in Calgary, and came to Vancouver for university 8 years ago. After graduation, I made Vancouver my permanent home!
Tell us about your favorite customer?
At my first Etsy Market, a customer pre-ordered something from me, and when I went to deliver it, he gave me a bag of fabric to use! It was such a sweet interaction and the bags I made with that fabric have been some of my fastest selling
designs!
Tell us about how your product is made. What is your favourite part?
My digital art is made by converting customer photos into beautiful timeless portraits. I love seeing what people choose
to have digitized and seeing the final product come together.
What's the most challenging part of your business?
Keeping up with it all! I get so excited about new ideas that sometimes it's tough to remember to keep up the classic products my customers know and love.
What do you wish customers knew about you or your business?
That every time I get an order, I do a happy dance!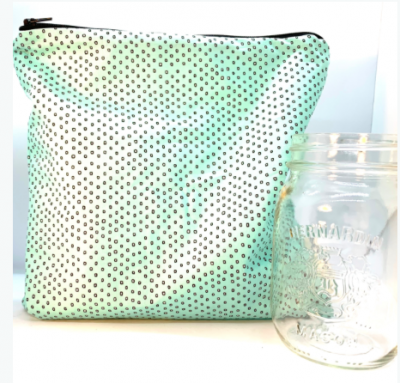 Is your workshop / creative space neat & tidy or a beautiful mess?
While I'm working its a disaster, but since I work out of my 1-bedroom apartment, it has to be tidy afterwards