The Etsy Market Maker: Chelsey of Sore Legged Potter
Meet Chelsey of Sore Legged Potter, her company name is inspired by her love of backcountry trekking!
Introduce yourself and your business.
Sore Legged Potter was born out of my love for creating unique handmade pieces that invoke a special emotion through form and function, or design.
Why the 'Sore legged potter'?
My husband and I usually spend our weekends in the backcountry, trekking on multi-day hiking expeditions. We push our bodies so hard that come Monday morning when we're sitting at our office desks, our muscles hurt in places we didn't even know existed! I usually do pottery in the mornings or evenings after work and because I was hobbling around like an old grandma he jokingly called me the 'Sore Legged Potter'. The name stuck- and here we are today!
How do you stay creative?
I read once that a creative's ideas are like fishing in a pond. You have to stock the pond, in order to catch something. Much like art, stocking the pond with things that inspire you, like art, illustration etc. will bring you lot's of references to draw upon as an artist helping you stay creative.
Is this your full time gig? If not, what is your day job?
I'm a project manager by day, and a dabbler of clay by night.
Were you born and raised in the Vancouver area or do you come from afar?
Growing up in a rural lobster fishing community in Nova Scotia, I always had a craving for adventure and creating things with my hands. I was forced to find ways to entertain myself: with access to only 2 TV channels, dial-up internet, and 4 family members to share these devices with it was always a fierce competition for the TV remote control, and computer. Being the youngest in my family, I found myself at the end of the pecking order. This forced me to entertain myself in other creative ways, like building forts outside, painting rocks, and exploring nature like visiting the animals on my neighbours farm.
As an adult, this love for the outdoors continued to grow. My husband and I moved across the country to lay down roots in beautiful, British Columbia – where mountains are minutes away. A project manager by day, and a dabbler of clay by night, I took my first pottery class at a local studio on Vancouver's seawall four years ago. I instantly fell in love as it brought me back to my childhood- creating with my hands. Soon enough, I ran out of space for all my pottery creations and friends and family grew tired of receiving pottery for every occasion. This is when I turned to Etsy. It's a space to share my love of ceramics with the rest of the world! I hope you enjoy these one of a kind pieces handmade by me. Inspired by the outdoors. All pieces are designed to invoke a special emotion, whether that's through paint, illustration or form.
Tell us about your favorite customer?
A repeat customer ordered another one of my rainbow sprinkle mugs and wrote "I broke the last one I ordered and my heart broke with it."
Tell us about how your product is made. What is your favourite part?
Depending on the piece, I use a pottery wheel for clean shapes, and hand building techniques (without a pottery wheel) for more raw organic looking shapes. I use all kinds of decorative techniques such as hand painted glazes, underglaze transfer decals, watercolour underglaze paints, underglaze pencils for fine line detailed work. My favourite part about creating a piece is that each one is truly unique and the experience of creation is almost always different.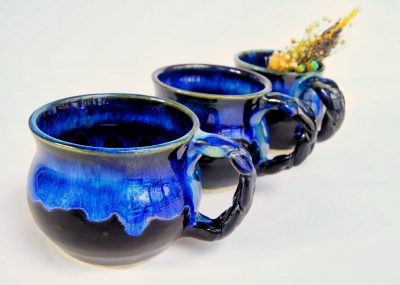 What's the most challenging part of your business?
Handmade items require time to make from scratch. Keeping up with the 'I want it
now' mentality of online shopping can be a challenge.
What do you wish customers knew about you or your business?
I take custom orders! So if there is something you don't see on my site, but would like me to make, message me and let's chat! Visit my Instagram profile @soreleggedpotter.
Is your workshop / creative space neat & tidy or a beautiful mess?
Both! Depends on the time of day you visit.