The Etsy Market Maker: Clara of C Yarn Hut
Meet Clara of C Yarn Hut, knitter and crocheter of cute accessories, specializing in Amigurumi.
Introduce yourself and your business.
My name is Clara, the creator of C Yarn Hut. I have huge passion for knitting and crocheting. Every free moment I have, I would pick up my needles and a ball of yarn to create something that I love. Like many others, my first knitting technique was taught by my mom and gradually I began to explore crocheting and learning about new patterns. I am fascinated by the unlimited possibilities that a single strand of yarn can create, is like the needle is my wand and before I knew it, I am under the magic spell of this art. C Yarn Hut started with a passion of creating something unique that filled with love and inspirations. We knitted and crocheted an array of projects. Our creations are delightful and simple. With a thread of yarn, we let our imaginations come to lives.
How do you stay creative?
I believe a "simple mind" can make my stay creative. And of cause friends and other artists have inspired me, to stay creative, to come up something new and fun ideas.
Is this your full time gig? If not, what is your day job?
This not my full time job. I am a dental assistant during daytime and crafter at night.
Were you born and raised in the Vancouver area or do you come from afar?
I born in Hong Kong and moved into Vancouver when I was in high school.
Tell us about your favorite customer?
I always build a good relationship with my customer, most of them are being my friend, instead of 'just a customer'. They trust me and appreciate my work. They tell me my work inspired them, but they inspired me at the same time.
Tell us about how your product is made. What is your favourite part?
My product is made with yarn/ thread, I love to create my product with other materials. (3D paint/ wood/ felt…etc)
My favorite part is Creation, from nothing to something with my own design.
What's the most challenging part of your business?
The most challenging part of my business is time management. Because I have a day time job, so I need to manage time on C Yarn Hut. Need to find a balance on my job, C Yarn Hut, and also my personal life.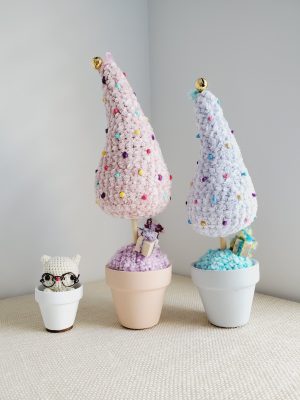 What do you wish customers knew about you or your business?
C Yarn Hut started with a passion of creating something unique with yarn. All of our products are of original design and are handcrafted in Vancouver BC. We knitted and crocheted an array of projects. We specialize in amigurumi and handknitted accessories. I wish my customer love and smile when they see my work, hope they will love it as much as I enjoyed making it.
Is your workshop / creative space neat & tidy or a beautiful mess?
My workshop is neat and tidy. And of cause it is a beautiful mess for the show prep :p