The Etsy Market Maker: Cliff of Nietvelt Photography
Meet Cliff of Cliff Nietvelt Photography
Introduce yourself and your business.
My name is Cliff Nietvelt and I am the owner and operator of Cliff Nietvelt Photography. I have two Etsy shops: NatureAsInspiration and CurbAndStreets. I am a photographer who primarily takes photos pf nature (wildlife and landscapes) as well as urban images. I print my photos on a wide variety of mediums: convent photo paper, metal, canvas, wooden blocks, and I also make pillow covers.
How do you stay creative?
I take photos when I can: locally or on longer trips. It is a great release for my brain. I also get inspired by going to art galleries, seeing movies, plays, and live music. It is good to expand your mind to other art forms, and by doing so you will continue to grow.
Is this your full time gig? If not, what is your day job?
I am a full-time wildlife biologist, and I work for the Provincial government. My creative side helps my science brain and vice versa.
Were you born and raised in the Vancouver area or do you come from afar?
I was born and raised in southern Ontario, Mississauga to be exact. After I finished my Bachelor degree, I headed West to the Rockies to begin graduate work and my career as a biologist.
Tell us about your favorite customer?
I like a customer who is very insightful and very passionate about art. They also tell me a story or reason as to why they like a certain image. Often these customers will stop by and say hello at another show or the following year to say how much they enjoyed their purchase. This reminds me the reason why I do shows like Vancouver Etsy.
Tell us about how your product is made. What is your favourite part?
I collaborate with many Canadian partners to get my work printed to the highest standard. I also mat and mount all of my photos. I would say the best part is finding the "right" image for a particular product. For my pillow covers, the most difficult but satisfying part of finding an image that "works" and is also the right tone, shade, colour pallete, and a pattern that will fit. For example, pillow with wildlife on the rarely work, and the image has to be perfectly framed. I get many requests about having a print they like to be put onto a pillow. The vast majority of the time that image will not work. I would guess that less than 5% of my images will work for a pillow cover.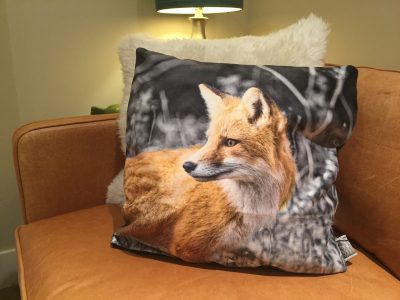 What's the most challenging part of your business?
Transporting my products and setting up my display for a large show. I have a large variety of products from Art Cards all the way up to 20×30 metal prints that are delicate. Getting all of this into my SUV as well as my panels to hang the prints is a challenge. I have really refined this over the past year or so, but it is never easy!
What do you wish customers knew about you or your business?
I do this primarily because I love nature and photography and I want to share this with the public. There is something great about sharing your passion with others and it feels good to bring joy to people.
Is your workshop / creative space neat & tidy or a beautiful mess?
Right now it is quite tidy! If I am doing a number of fall and Christmas shows, if can be a beautiful mess.