The Etsy Market Maker: Elena of Elena Markelova Arts
Meet Elena of Elena Markelova Arts, a watercolour painter of nature and wildlife.
Introduce yourself and your business.
Hello! My name is Elena and I'm an artist. I mostly use watercolour to create my artwork, which I often transform into art-prints, stationery, magnets, even sweatshirts.
How do you stay creative?
I find my inspiration in the beauty of nature and wildlife that inhabits my new home. For a wave of creativity I don't need to go far, I often meet wildlife just outside my home in Maple Ridge. I always paint something very special after a trip to the mountains or lake. Luckily we have so many breathtaking places around here in beautiful British Columbia and I'm very grateful for that!
Is this your full time gig? If not, what is your day job?
I quit my full time job a few years ago when I got to the level where I needed to make a decision – to continue growing my small business or stay where I am. I will never regret my choice! Now I can stay home with my kid and do what I love.
Were you born and raised in the Vancouver area or do you come from afar?
I was born and raised in Russia (south part of Siberia) where I studied art for 13 years, and came to Vancouver 8 years ago. I just got my citizenship, and I feel so honoured to officially be a part of such a great community! No other place ever felt like that, I'm finally home!
Tell us about your favorite customer?
My favourite customer is someone who appreciates the beauty of nature and connects in some way to the portraits of the animals that I paint or the landscape views. I put my heart and soul into each piece of art that I create, and I hope that my favourite customer can glimpse it in those watercolour splashes and strokes.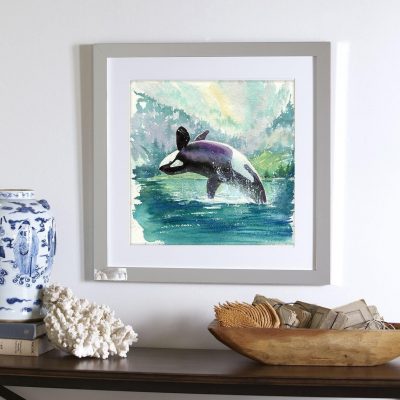 Tell us about how your product is made. What is your favourite part?
Selling the art-prints of my paintings, the most important and my favourite part is creating the actual artwork of course. I start by sketching the ideas of one or the other animal, imagining them in their natural habitat and me being that animal, trying to understand their feelings or see the world through their eyes. It's a fascinating process! It's very challenging at times to find that balance of the animal shape versus the landscape view, but it's also what keeps it very interesting. Then I pick my paints and start visualizing that idea on paper. Watercolour is so magical! You can never 100% predict how the artwork will look like at the end and I love it!
What's the most challenging part of your business?
Right now the most challenging part is to find that precious time to create new artwork because I have no help with my son. He is almost 3, a very energetic and active boy and he wants 100% of my attention during the day. I'm sure many stay at home moms and dads who also run small businesses would understand me in this situation, and now even moms and dads who have their kids home due to COVID and have to work from home at the same time. I really feel for you guys! We are in this together!
What do you wish customers knew about you or your business?
I wish they knew how much time I spend on each piece before the brush in my hand touches the paper. I wish they knew how much every artwork means to me and how thankful I am to see them go to their new beautiful homes.
Is your workshop / creative space neat & tidy or a beautiful mess?
My space is a mix of a beautiful colourful mess of paints and paper and some very organized and neat shelves where I keep my final product and shipping supplies.