The Etsy Market Maker: Lisa and Madison of Periwinkle Designs
Meet Lisa and Madison of Periwinkle Designs, a mom and daughter duo eco-friendly products.
Introduce yourself and your business.
Lisa (Mompreneur) and Madison (Kidpreneur) from Periwinkle Designs are local makers from Vancouver, BC.
This duo create eco-friendly products that includes beeswax food wraps and bags, unpaper towels, reusable face masks, and reusable sandwich and snack bags. Lisa and Madison are very passionate about their products. With the support of their entire family they are excited to continue this journey together creating a positive impact on the environment one product at a time.
How do you stay creative?
We stay creative at Periwinkle Designs because our work is never done!
Nothing beats a good challenge and we are always up for one! Whether we are working on improving existing products and processes or potential new products we are always creating, designing and putting our new ideas to the test.
Is this your full time gig? If not, what is your day job?
Lisa's full time jobs are being mama to her two kids Madison and Cole and working the business.
While working on the business, Madison also keeps busy as grade 5 French Immersion student and competitive diver.
Were you born and raised in the Vancouver area or do you come from afar?
We were both born and raised in the Vancouver area.
Tell us about your favorite customer?
Oh boy! That's a really tough question! We truly are thankful and grateful for all of our customers and supporters!
Tell us about how your product is made. What is your favourite part?
Let's use our beeswax food wraps as the example. In the beginning, it took a lot of trial and error to achieve the right recipe for our wax mixture that we were happy with. We wanted it to be pliable and tacky to closely mimic plastic wrap since it is the main single use plastic product beeswax wraps replace. Once we had that figured out, we worked on curating high quality 100% cotton fabric. We cut our fabrics down, wax them, QA the products and then package them up.
By far our favourite part of this process, is curating unique, fun fabric to bring to our customers.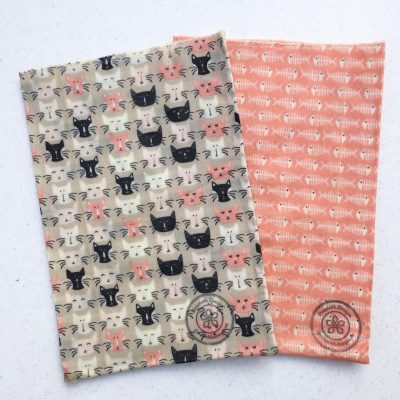 What's the most challenging part of your business?
Marketing and Social Media.
What do you wish customers knew about you or your business?
Periwinkle Designs did not start out as an eco-friendly product based business.
It took trying different products and services over the years to come to where we are today.
We are proud to say 100% of our products are designed, created and packaged in house by our family.
We feel so blessed to have found a business we are passionate about that we can do together.
Is your workshop / creative space neat & tidy or a beautiful mess?
It starts off as a creative neat space and quickly turns into a beautiful mess!