The Etsy Market Maker: Louisa of Luli Designs
Meet Louisa from Luli Designs, her beautiful jewellery is inspired by the natural beauty of the west coast.
Introduce yourself and your business.
My name is Louisa Hrennikoff and I am owner and jewelry maker of Luli Designs. I started my business in 2005 and opened my etsy shop in 2007. My jewelry is inspired by the ocean, trees and natural beauty of the west coast. The necklaces, earrings and bracelets are made with wire wrapping, bead weaving, macrame, stamping and leather woven techniques to create wearable jewelry with a touch of whimsy.
How do you stay creative?
Taking photos and getting outside help to keep me creative as well as surrounding myself with my supplies and seeing which way my materials take me.
Is this your full time gig? If not, what is your day job?
The great thing about being a business owner and maker is that the business can change as your life changes. Luli Designs as gone through waves of being my full time business to being part time because of other small businesses and it has also taken a back seat when things have changed in my life such as when I had my two daughters. It has always been there for me to ramp back up when life has allowed it to again.
Were you born and raised in the Vancouver area or do you come from afar?
I was born in England and we moved to Vancouver when I was a small child. I have also lived back in England again and also lived in Toronto and Montreal.
Tell us about your favorite customer?
My favourite customer is someone who appreciates the creative process of making a handmade piece and likes to chat about design, colour and life!
Tell us about how your product is made. What is your favourite part?
I have used various different jewelry techniques in my work over the 15 years of having my business. At the moment I am really focused on beadwork pieces as this technique ties in with my love of sewing and my education background of going to Fashion School at Ryerson in Toronto. Beadweaving is a process of using beading thread and a needle to weave together beads. There are so many colours of beads to chose from and the possibilities of shape, pattern and colour
combinations just seem endless which I love.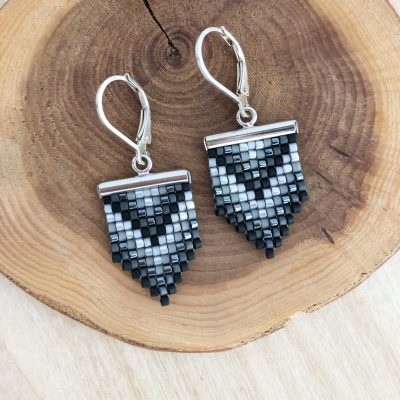 What's the most challenging part of your business?
The balance between family and business is very challenging for me. I have considered giving up my business a few times because I have felt like my two daughters need me more. When this comes up I am always reminded that my business is part of me and I would be losing such a huge piece of myself if I were to give it up. The stress of balancing the two is always outweighed by the benefits that creativity and sense of self that my business gives to me and also makes me a better mother and role model to my girls.
What do you wish customers knew about you or your business?
My business is a part of me and has been such a big part of my adult life and jewelry making has been part of my life since I was a child.
Is your workshop / creative space neat & tidy or a beautiful mess?
My workspace is a beautiful mess…ok, not always so beautiful! I try to keep it tidy but it always gets piled up with my current projects, unfinished projects, my daughter's artwork and craft projects, household paperwork and props from photo shoots. I have just learned to work within the mess in the knowledge that one day I will finally tidy it up but for now this is how I work.