The Etsy Market Maker: Patty of You & Me Candles
Meet Patty of You & Me Candles, her business was created from her love of candles and the need to eliminate all toxins from her home.
Introduce yourself and your business.
Growing up in Revelstoke, BC I have always had a passion for creating. Wanting to know how things are created and trying new ideas. Candles have always been a love of mine but 7 years ago I was found out that a a lot of the candles that I owned were made out of petroleum and used lead wicks.
My partner was diagnosed with ALS and we eliminated all toxins from our home to help him deal with his illness. Since then I have been on the hunt for a clean burning candle. I did a lot of research with the different types of wax and choose a premium unique apricot and coconut blend.
I only use 100% cotton wicks and cosmetic-grade fine fragrance oils. The fragrances I used are all phthalate free. Each candle is made in small batches and poured by hand in Vancouver, BC.
How do you stay creative?
I have always been in a building that I share with other artists. I stay creative by talking to other artists and collaborating together on projects.
Is this your full time gig? If not, what is your day job?
Right now You + Me Candles isn't my fulltime job. I am a Manager of Digital Experience at Douglas College.
Were you born and raised in the Vancouver area or do you come from afar?
I was born in Maple Ridge but raised in Revelstoke, BC. Growing up in Revelstoke instilled a strong sense of community in me. I love to work with other that have that same sense of a strong community.
Tell us about your favorite customer?
My favorite customer is a therapist in Vancouver that uses our room sprays in her practice before each customer comes into her office. Making a relaxing and welcoming atmosphere for her clients.
Tell us about how your product is made. What is your favourite part?
All of my products are made by hand. Each candle is poured by hand. My favorite part is when companies reach out to me to create custom candles for them. I have become a master at mixing fragrances to create unique experiences.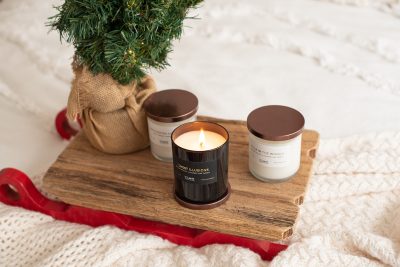 What's the most challenging part of your business?
The most challenging part of my business is staying on top of trends and photography.
What do you wish customers knew about you or your business?
That every product is made by hand. Every candle they receive is poured and labeled by hand. I love creating candles and I hope they experience that love when they try our products for the first time.
Is your workshop / creative space neat & tidy or a beautiful mess?
It depends on the time of year. Mostly its tidy until its the holiday season and it can get alittle messy but everything has its place and it always put away.