The Etsy Market Maker: Rachel of Rachel Rainbow
Meet Rachel of  Rachel Rainbow maker of accessories with nostalgic details and fanciful colours.
Introduce yourself and your business.
Hi I am Rachel and no my last name is unfortunately not actually Rainbow. I started Rachel Rainbow as a creative outlet from my structured design job in children's wear in 2013. I have a degree in Fashion Design and Technology and have always preferred to design for children. I love colour and sparkly things and rainbows and unicorns and these do translate better into a younger market. Although I am always on the lookout for the adult versions for myself. I think minimalism is beautiful, but I personally am attracted to a more eclectic style.
Enticed by nostalgic details and fanciful colours, Rachel Rainbow is created for pretending. Designed for children age 3+, each Rachel Rainbow piece is created to bring delight and to be treasured. Each piece is designed and handmade from a nostalgic place of fanciful things with care and attention to detail in Vancouver, BC.
How do you stay creative?
Oh jeeze, I hate these questions. Sometimes you just have to force yourself to be honest. Schedule in the time and start to play. I wish I had a more whimsical answer. Pre-covid, I found going out to live local music and artist shows was always inspiring. I also find being outside can help me when I am stuck or any form of movement in general.
I bought a seriously run down doll house this month. I've always wanted one. And no, I do not have kids, this is for me. I want to refurbish it and make it into my mini dream home. Because, let's face it, doing this for real in Vancouver is perhaps unlikely in the foreseeable future. So I suppose having creative outlets outside of Rachel Rainbow is what inspires me most. I LOVE to cook and feel that this is one of my greatest creative expressions.
Is this your full time gig? If not, what is your day job?
At one point I had hoped Rachel Rainbow would be my full time job. However, in 2018 I started nannying part time and I loved this position so much and the balance it brought to my life. I went back to school full time in March this year so I am currently juggling school, my part time nanny gig and Rachel Rainbow!
Were you born and raised in the Vancouver area or do you come from afar?
I was born and raised in White Rock, BC, a suburb of Vancouver. I moved to Vancouver in 2012 after graduating from University. I always wanted to be in the city to be close to live music, amazing food and the many beaches (not that White Rock was lacking in beaches).
Tell us about your favorite customer?
I have so many amazing and loyal customers. It truly is a privilege to have customers returning year over year to support my business. From small to large orders, I celebrate every single one. I especially love creating custom orders as there are less limitations in creating one of something vs twenty plus.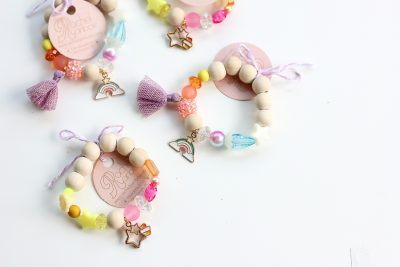 Tell us about how your product is made. What is your favourite part?
I design and assemble all Rachel Rainbow pieces in my one bedroom apartment in Vancouver, BC. I love sourcing new beads and charms and putting these together into whimsical combinations that I hope are unexpected and delightful to my customers.
What's the most challenging part of your business?
The bookkeeping, taxes, admin side of things I dread. I want to make and send out orders and share photos and chat with customers in person at markets. The other less creative side of this business is where I struggle. I know I could/should hire someone, but I am one of those people who tends not to outsource if I can do it myself.
What do you wish customers knew about you or your business?
I guess that this is a small operation out of my home and now a super part time gig. It helps me pay for my groceries and for my tuition. I love when people email me and "my team" which is essentially myself, my cat, Dori, and my very supportive partner. I think what I've learned over the years is that running a small business brings the highest highs but also some very low lows. It brings me so much joy to create something that as a child I would have adored.
Is your workshop / creative space neat & tidy or a beautiful mess?
It is a bit of both. Because I work in essentially my living room and dining room my space is cleaned up and put away when I am done. But, when I am working on designing new pieces I spread out and take over the entire room and it is organized chaos.