The Etsy Market Maker: Tamara Philips Art
Meet Tamara of Tamara Philips Art, a watercolour painter of  spirit animals and nature.
Introduce yourself and your business.
Hello, I'm Tamara, a nature wanderer and watercolour artist! I spend a lot of time in nature, and translate the essence of those experiences into artwork. I make my own prints and treasures as a way to share this magic with others. I am environmentally minded and strive to make lower-impact products with sustainability in focus.
How do you stay creative?
I have the opposite problem. How do I tame my creative mind so that I can better attend the present moment? And my answer to this is: Nature. I always return to the concept that time with nature: a walk in the forest, a lie-down under a tree, a pause to look at the sky, will calm us and bring us to the present.
Is this your full time gig? If not, what is your day job?
Yes it is. My day job is "living", which I'm grateful for. It isn't the easiest path.
Tell us about how your product is made. What is your favourite part?
The idea and transformation. From the moment the concept is conceived (which feels a lot like a sacred "arrival" of sorts), to those first brush strokes. The colours choose themselves and these little parts of the process are always pretty exciting!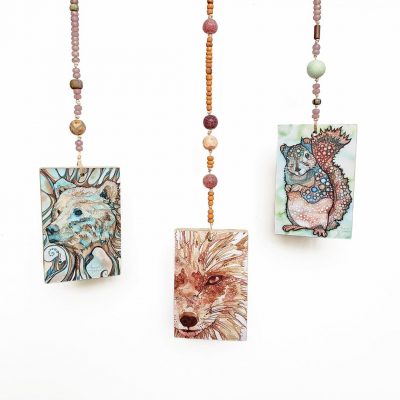 Is your workshop / creative space neat & tidy or a beautiful mess?
Ordered chaos. I prefer a minimalist tidy space and try to maintain this. Throughout the day, though, my space will transform into dramatic chaos. And somehow, in a day or two, or three, I always find a way to put in back into order.